St Edith Stein
St Edith Stein said to her sister Rosa as the Nazi's arrived to take them to Auschwitz: "Come Rosa. Let us go for our people". She died offering her life to God for the Jewish People along with Rosa and 1000 other Catholic Jews in the gas chambers of Auschwitz on August 9 1942. One day soon a Catholic Pope will say to his surviving followers "Come, let us go for our Jewish people".
For many years I have believed and even written on this blog that a future Pope will return the Papacy to Jerusalem. Even in the writings of the servant of God Luisa Piccarreta she states that the Church of Rome will give to Jerusalem the gift of the Kingdom of the Divine Will. Jesus tells Luisa in 1928: "...
Now there will be an exchange: if Jerusalem gave to Rome the life of religion and therefore of Redemption, Rome will give to Jerusalem the Kingdom of the Divine Will. This is so true, that just as I chose a Virgin from the little town of Nazareth for the Redemption, so I have chosen another virgin [Luisa Piccarreta] in a little town [Corato]belonging to Rome, to whom the mission of the Kingdom of the Divine Fiat has been entrusted. And since this must be known in Rome just as my coming upon earth was known in Jerusalem, Rome will have the great honour of requiting Jerusalem for the great gift received from her, which is the Redemption, by making known to her the Kindgdom of my Will. Then will Jerusalem repent of her ingratitude, and will embrace the life of the religion which she gave to Rome; and, grateful, she will receive from Rome the life and the great gift of the Kingdom of my Divine Will. And not only Jerusalem, but all the other nations will receive the great gift of the Kingdom of My Fiat, the first criers of It, Its gospel - all full of peace, of happiness and of the restoration of the creation of man. And not only will my manifestations bring sanctity, joys, peace and happiness, but the whole of Creation, competing with them, will unleash from each created thing each of the happinesses it contains, and will pour them upon creatures...".
In the recent "Locutions to the World" promoted by Monsignor Esseff Heaven states that a Pope will arise after Pope Benedict XVI who will move the Papacy to Jerusalem and this Pope will himself die for the Jewish people and the Israeli State. It would also seem that this is the Pope who will finally consecrate Russia to the Immaculate Heart of Mary by name. Our Lady herself is protecting and hiding the identity of this future Pope.
Older Catholic prophecies say that this Pope would be of Frankish or French background and others say that he will be Jewish. This also could be a prophetic way of saying this Pope will be a Catholic Jew or Frankist. He will be elected in exile by the underground Catholic Church so it could be that Pope Benedict (or the next Pope) is the Pope that will flee Rome and die a cruel death in exile. An evil anti-Pope will be invalidly elected after the true Pope flees Rome. For about two years there will be no true Pope elected before one is elected in the underground Church. This may be the Pope that marches to Jerusalem and gives his life for the Jewish People.
Andrew Sholl the co-founder of the Association of Hebrew Catholics
About 20 years ago I had a powerful dream in which I saw myself in the future dressed in a black Cassock and I was coming to report to the Pope in a huge underground Cavern in Russia where the Pope was staying. Here he was living with some Catholics and the Russian Orthodox who seemed to be the Pope's greatest supporters. The Catholics and the Russian Orthodox were saying Mass together in unity. In the dream it seemed that I was already well known to this Pope and he greeted me with a hug and I reported what was happening in that part of the world from which I had come. The Pope was not John Paul II and he did not look like Pope Benedict either. He was thin and had black hair sprinkled with grey and he wore glasses. He had a Jewish look that seemed a cross between the late Cardinal Lustiger and my old friend Andrew Sholl the co-founder of the Association of Hebrew Catholics.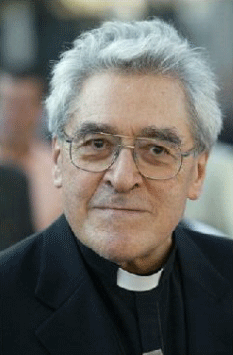 Cardinal Lustiger of Paris
Jesus told the Esseff visionary : "...The Pope will enter Jerusalem like I entered it. The city will already have suffered much and Israel will begin to despair, wondering what can be done. Then this figure clothed in white will come, sent by the Father just as He sent me. He will come to save Israel, just as I came. He, too will die in Jerusalem but his death will have a profound effect upon the whole world. For the whole world will weep at his death and his death will bless Israel. Why do I reveal these things now? Why do I bring you to the center of the mystery so quickly? Because the time is short. The events are near. They are not far away." (Message 2 Seeing the Future of Israel).
And Mary said: "...
Now I will come to the central point so there will be no mistake. The Cardinals will meet to elect a pope but an extraordinary intervention of God will occur that will alert the whole world to the special nature of this office. They will seek to discern this intervention, to grasp what is the will of God, but everything will not be clear at first. Some, however, will speak in divine wisdom and the search will begin to find the one whom God wants to raise up. He will not come forward at first, even though he knows that he is chosen by God. He will wait until the discussion is concluded and the Cardinals are settled. Then new manifestations will occur which will signal clearly the one whom the heavenly Father wants as his Pope. This will be a complete surprise to the world and to the Church but not to the one upon whom the mantle falls. This is my chosen son, the one whom I have picked. I want all of this to happen in a startling manner so the world and the Church know that this one was chosen by heaven, by God and not by men. He will be prepared because I will have prepared him. He will be the pope of Fatima and bring to fruition all of the gifts of Fatima, just in time to prepare the Church and the world for the Satanic onslaught..." (Message 212 A Future Papal Election)
Jesus said:
"When all is put in place and all the events are about to occur, I will raise up a son to be the pope. He will be well instructed in my ways and he will not fail me. I will have instructed him for years and then, through the most extraordinary of events, I will lift him to where no one thought he would ever attain.
He will be a man of faith and will walk only in my ways and in my light. All will be clear to him because I will have revealed everything ahead of time. There will be no doubt and no hesitancy.
The Two Goals of a Short Papacy
Because of the confusion of the world, he will set aside many of the usual tasks, and will focus on the tasks that I had revealed to him ahead of time – the consecration of Russia to the Immaculate Heart and the moving of the papacy from Rome to Jerusalem. These are the two important goals of his short papacy.
My Church will be positioned again, just as I positioned the Church when I placed Peter and Paul in Rome and led them to their martyrdom. This planted my Church in Rome, where it has been for all these centuries. Now it is time to root it again in the soil of Israel and in the Middle East. It is in Jerusalem that all will find peace. No longer will my death and resurrection be set aside. All will see that Jerusalem is the holy city. Because of that holiness, peace will come to the world.
All will tell the story, the fathers to their children. They will tell the story of what I accomplished in Jerusalem and why Jerusalem is the center of the world. Yes, I say, the center of the world. Other cities will exist and have their own importance but it is to Jerusalem that they will look for their wisdom. Presidents and kings, men and women with political power, will submit to the wisdom of Jerusalem and all the nations will walk again by my light. See all the events in this light. It will not be accomplished in one step or two steps.
How can I shake the present order? How much that now exists must be set aside? I will use many to accomplish my plan, even the strategies and the powers of the Evil One will unwittingly bring it about. Step by step. All will proceed until all the nations see what I have done to exalt the mountain of Zion.
(Message 79 The Consecration of Russia and the Jerusalem Papacy)
St Peter's Gallicantu on Mt Zion in Jerusalem
Jesus also said in Message 15 Rome and Jerusalem:

"
Great vision is needed because the devil believes that he is finally able to destroy the Church. He has almost all of his people in place to attack the Church of Rome. However, the heart of my church is not in Rome, but in Jerusalem. The church was transplanted to Rome because Jerusalem would not survive. So, the move of Peter and Paul to Rome was my will.
Rome is not Jerusalem. All the churches see the uniqueness of Jerusalem. After the Pope is killed, there will be a question. Will the papacy stay in Jerusalem or return to Rome? The deceased pope will have instructed his followers clearly. Some people will remember the splendor of Rome and will want to return. They will return but those who are faithful will elect a new pope and the world will know that the soul of the church is in Jerusalem. This small seed will grow strong in Jerusalem and the gift will take root."
Our Lady gives us her own pastoral plan for the new evangelisation: "
I would gather my people, but all are scattered. They are consumed with other tasks. "What I am doing for the Church is important", they say. "I am carrying out an important work of evangelization". They go off in their own directions. They are scattered children, each carrying their little light that is quickly swallowed up in the darkness.
I must call my children together. I must say to them "Put away the lights of your own minds and your own wills. Take my light. It seems small now but if you but hold it in your heart and lift it high for all to see, this little light will grow. This light contains within it unique powers". I will explain these images.
The Problem
The Catholic Church has many, many good people who are sincerely interested in its welfare. However, they are scattered. They are not drawn together. They preach and work very hard but the results are meager and they grow disheartened. They turn to others for advice. They go to workshops to learn what the experts are saying. One year they try one thing and the next year they try something else. Their efforts are sincere but the good effects flow away like rain water down a sewer. Why does this happen? Because they turn to their experts instead of turning to me. They work according to the ideas of man instead of by the light which their heavenly Mother has provided. That is what I mean when I say "They are scattered and concerned with other tasks".
The Answer
My plan is to gather them and to give them my light. Many have set me aside. They have relegated me to "Marian devotions". They have never learned the central truth of Fatima. At this moment in the world's history the heavenly Father has decided to exalt my Immaculate Heart. This century will see the triumph of my Immaculate Heart. That is the Father's pastoral plan and it contains all wisdom and all power. Yet, many sincere workers in the Church set aside this plan. They substitute their own. This is why the Pope must call a year of Fatima. All the Church evangelists, preachers, pastors, catechists and people must get on the same page. They must get on my page because their page is useless."
(message 207 Mary's Pastoral Plan)
The Pope's Way (Derekh ha-Apifyor) on Mt Zion
"...So, I will stand at the side of another son, a human son, whom I will lift up to the papacy. No one will doubt who it is. I will not let him stay in the shadows (even though at present he is covered with the greatest of shadows and is hidden in my heart). I will bring him forth for all to see. He will acknowledge completely that I alone have lifted him up to the papacy. I will put my seal upon him. He will act only in my name. He will have a Marian papacy, rooted totally in my promises, especially in the words that I spoke at Fatima. With this pope, the Age of Mary will come to its total height and will forever be upon the lampstand until the end of time.
Hidden But Promised
When this is accomplished, all the light and power which I have placed in the hearts of many come to fulfillment. When I fulfill this promise, those who have pushed aside my devotions will see their foolishness. I say to all, "Pray for this pope son of mine. He is hidden deeply in my heart because I want nothing to harm him. Pray that all the startling events take place so that he is raised aloft. In him the nations will rejoice"."
(Message 258 A Marian Papacy)
Monsignor John Esseff with Blessed Mother Teresa of Calcutta
Both these locutions and the locutions to Father Gobbi state that Our Lady's request to consecrate Russia to her Immaculate Heart by name has not been done. It is time that those in the Church stop pushing the agenda set by Cardinals Sodano and Bertone to sideline Fatima and the consecration to Russia. They will find when they go against those in the Marian movement who say that the consecration has not been done or that the full message of Fatima has not been revealed (the Fourth Secret) that they are actually resisting God and quenching the Holy Spirit. The Pope himself in 2010 said that the message of Fatima was not complete and those that thought it is was were mistaken.
Our Lady to the Esseff visionary states: "
I wait for the Consecration of Russia to be done by the Holy Father. He must move quickly before it is too late. The world events must convince him that no other force exists that can turn back the satanic destruction of the world and of the Church that is taking place. Mankind will be helpless and the Church will be helpless. (There will be scandal after scandal.)
Everything is going in reverse. Power is slipping away, both from world leaders and Church leaders. The bonds of stability that held the world together are loosening. The world does not know what to do but the Church knows and the Pope knows. The Pope must cut away those who tell him to stay away from Fatima. They are the voices of Satan and need to be silenced.
The Pope's Task
The Pope must draw near to Fatima. He must study Fatima. He must encircle himself with advisers who both know and love Fatima. He must preach on Fatima. He must instruct the whole Church. He must tell the bishops that they are to fully embrace the message and teaching of Fatima. The Church of 2012 must become a Church of Fatima. Only in this way, will the Church begin to take the right road. Do not be afraid of those who will raise their voices against this.
I will bring the people back to the sacraments. This will quickly prepare for the Consecration of Russia. Fervor will return. Hearts will see the great mistakes they have made. There will be a gigantic "turning back". However, the effort must be "all-out". A letter will not suffice. A homily, here or there, won't even be noticed. Even to speak of me in a general way, will gain no attention.
Lucy on the Lampstand
So, I speak to my son, my beloved Pope. Place the light of Fatima in your own heart. Let that light grow. Let that light diminish all the other lights, even the brilliant light of your human plans. The world, at this point, does not need your theological teachings, (as brilliant as they are). They need my simple teachings that I gave to the three children, especially to Lucy. She is a light placed under a bushel basket and it is time for you to put her on the lampstand."
(Message 204 The Pope must proclaim a year of Fatima)
Our Lady is ready to go as she says in message 349 The Promises of the Woman: "...
This is not the time for part-time disciples, or for timid believers. I will be with them totally but they must be with me totally. There are no vacations. This is an all out war and it has already begun but my Church has not sounded the trumpet or called to arms.
I am ready to lead. When is the Church ready to follow? I will set out shortly even if my army is small. If my Pope does not blow the trumpet, I will blow it for him."
St Joan of Arc pray for us
St Bernadette pray for us
"...Mankind, this is where you are. How foolish you are to think that Satan can possess nuclear arms and never use them. They will be used. How far and how great the destruction depends on your turning to me, on how many listen to my words and come into my Immaculate Heart. Let the Church proclaim these words. The Church can reveal the full secret of Fatima. I have already spoken. The Church need only say, "This is what the Virgin of Fatima has said".
Why are my words held back? Whose so-called prudence is covering over my Wisdom? If I have spoken these words (and were they not given to the most faithful of my messengers – the three children of Fatima), then why are they not published? If they are not published, I will remove those who are covering them over and replace them with my true servants who will release the full light of Fatima."
(message 204 Publishing the Full Fatima Secret)
Our lady says to Pope:

"...
What can I say to you? How much must I warn you? Go to Fatima! Take all the believers with you. Go to Fatima as quickly as possible! All that you need lies in my Immaculate Heart at Fatima. Do not listen to those in high places who caution prudence or who tell you to wait. Holy Father, lead my Church to Fatima. Why are you waiting? What is the delay? If I had not spoken, if I had not appeared, if I had not placed the treasures there, then I could excuse you. Things would not be so clear. Clear away your desk. Set aside the other issues. Proclaim a year of Fatima. Be very specific. Get people to read my messages. Get them to understand the great blessings that remain unopened. People need concrete advice on how to walk. This is a clear path. Before the destruction begins, I want my whole Church to go to Fatima. I will be there.
Let no one ask in the middle of all that will happen, "Where is Mary?" I have told you where I am. Those who go there, in body or in spirit, will be kept safe."
(Message 203 The Pope must lead the church to Fatima)