Father Michel Marie in his famous black Cassock
Recently "Chiesa" website carried an article about a French priest who was Jewish through his mother and the wonderful renewal he is leading in his parish in Marseille a city full of Muslims. He is focused on the Eucharist and Our Lady and wears the traditional black cassock. However he is not of the new rigidly orthodox but is one of those who is spiritual and orthodox with a heart for the broken and poor. Recently our Archbishop Emeritus Barry James Hickey of Perth mentioned him in a recent talk as a great hope for the future of the faith in Europe.
Father Michel Marie with some of his flock
Father Michel-Marie Zanotti-Sorkine states: "..."

Even the prostitutes. I give them communion. What should I say? Become honest, before you enter here? Christ came for sinners, and I have the anxiety, in withholding a sacrament, that he could bring me to account for it one day. But do we still know the power of the sacraments?

I
have the misgiving that we have excessively bureaucratized the admission to baptism".
...". This insight is important in a Church that seems to be returning to an unhealthy legalism in regard to rules and regulations, and a deliberate blindness to the final words of the 1983 Code of Canon Law:
Salute animarum, quae in Ecclesia suprema semper lex esse debet.
"...the salvation of souls, which must always be the supreme law in the Church, is to be kept before one's eyes." (Canon 1752).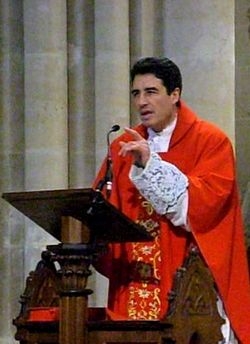 Father Michel Marie preaching
Marina Corradi writes: "
That black tunic fluttering along Rue Canabière, among a crowd more Maghrebi than French, makes you turn around. Check it out, a priest, and dressed like once upon a time, on the streets of Marseille. A dark-haired man, smiling, and yet with something reserved and monastic about him. And what a story behind him: he sang in the nightclubs in Paris, was ordained only eight years ago and since then has been pastor here, at Saint-Vincent-de-Paul..."
Father Michel Marie Zanotti-Sorkine with Pope John Paul II
Marina Corradi then discusses his ancestry and reveals that this priest is in fact Halakically Jewish through his mother. "
But in reality the story is even more complicated: Michel-Marie Zanotti-Sorkine, 53, is descended from a Russian Jewish grandfather who immigrated into France and had his daughters baptized before the war. One of these daughters, who escaped from the Holocaust, brought into the world Fr. Michel-Marie, who on his father's side is half Corsican and half Italian. (What a bizarre mix, you think: and you look with amazement at his face, trying to understand what a man is like who has such a tangle of roots behind him). But if one Sunday you enter his packed church and listen to how he speaks of Christ with simple everyday words, and if you observe the religious slowness of the elevation of the host, in an absolute silence, you ask yourself who this priest is, and what it is in him that draws people, bringing back those who are far away..."
Father Michel Marie a Jewish Catholic with his Jewish Eucharistic Lord
for the whole article on Chiesa click here
Father Michel-Marie has also written many songs and books. In his book "Homme et Pretre" (Man and Priest) and other writings he outlines his idea of the ideal priest of the future. According to him the priest must be a free man, consecrated to Our Lady, wearing a cassock and apostolic in the very depths of his heart. While living fully among the people of the world the priest must use all the deep resources of his personality in their service. Keeping himself far from all forms of clericalism and rigid bureaucratic systems, he should be totally focused on the single desire of loving Jesus and Mary and the baptism of the entire world. (see
Wikipedia
).
It would seem that he has been influenced by St Louis de Montfort who saw the Apostles of the Latter Days as free servants of God totally consecrated to Our Lady. Father Michel-Marie firstly studied for four years as a Dominican but then due to his love for Our Lady (influenced by the Marian teachings of St Maximillian Kolbe) he switched to the Franciscans and then finally to the diocesan priesthood where his present ministry is flourishing in a city that not only has a large Muslim population but also a large Jewish population.
Could this be the future Pope of my dream that I discussed on a previous blog? The Pope in my dream looked very like Father Michel-Marie but older and wearing glasses when I met him in the underground Cavern in Russia. Is he the prophesied French Jewish Pope? Could he be the next Pope after Benedict XVI who will move the Papacy to Jerusalem (last of the Roman Pope's and first of the restored Jerusalem Popes) or the Pope after that who will usher in the Era of Peace with the Great Catholic Monarch
. These are speculative matters and time will reveal all.
Above is a song by Father Michel Marie about Father Marie Do
Added January 26 2013: The Radicality of Father Michel-Marie


Another article in French